Automated driving (ADAS) | Research
Adrive Living Lab and MdynamiX conduct new study on parking manoeuvre assistants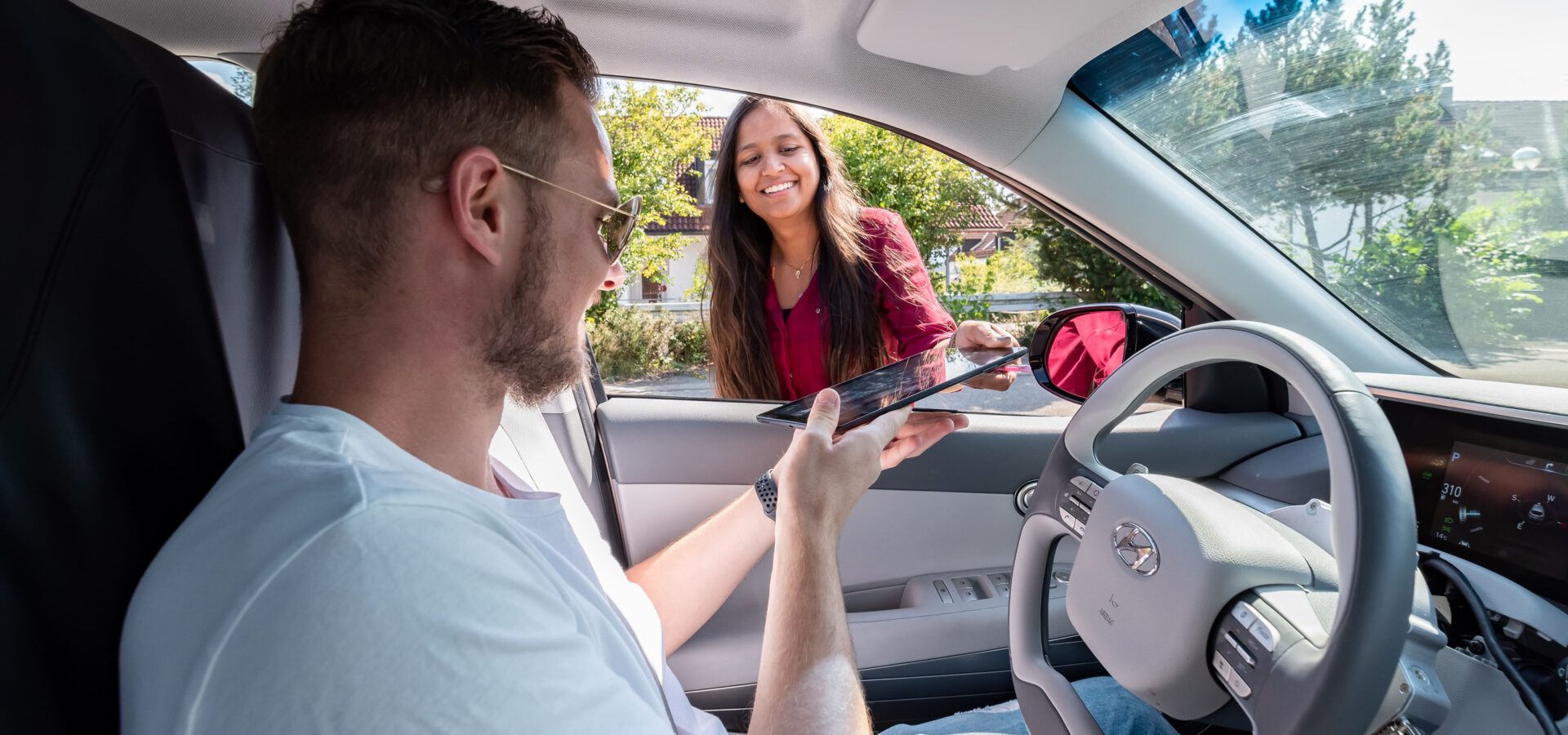 Kempten. MX research partner Adrive Living Lab is working on customer acceptance studies also in corona times. With the necessary detailed hygiene concept, a new subject- study could take place in Kempten – this time on the fully automated parking manoeuver assistants (PMA) of two vehicles with hybrid or hydrogen drive.
The test study was conducted by employees of the Adrive Living Lab of the University of Applied Sciences Kempten and MdynamiX. External experts and employees of both institutes were available as test persons and participated in the three-hour study.
Analyses are performed digitally on a tablet with the MXeval App
The purpose of the study was how the users subjectively experience the fully automated parking assistant in real life and which improvement potentials result from this. The participants compared their own parking skills with the fully automated parking assistant and evaluated them using our evaluation app MXeval. The app was provided on a tablet. Not only subjective data but also objective measurement data is collected to develop the Key Performance Indicators (KPIs). The KPIs are defined in order to ultimately objectively evaluate each system against these defined indicators and to define target characteristics.
The acceptance of the system depends on the added value
By means of test person studies and the resulting feedback from customers, new and important insights for existing and future driver assistance systems can be gained. This enables us to respond to the needs and wishes of potential customers.  "A system is only accepted, if it is easy to use and offers added value to the end user", says Prof. Bernhard Schick, head of Adrive Living Lab and CEO of MdynamiX.
Without customer acceptance for such systems, they will not survive on the market, let alone develop further. The end consumers must not be left out in the development process, but should be permanently involved. "More than ever, man and machine must communicate and interact perfectly with each other: externally, internally, acoustically, visually and haptically. Feedback, trust, a sense of security and always predictable reactions are essential factors in this process," says Schick, explaining the challenges.
Translating the language of our customers into engineering
In this study, already developed evaluation criteria and methods are validated and improved. The collected measurement data will serve as the basis for the development of a new objective evaluation methodology and the comparison "man vs. machine". These results will be used to translate the language of the customers into that of the engineers in order to find the common denominator.
The regional television station TV Allgäu visited the Adrive Living Lab and took a look at its activities. Here you can find the complete video (in German):
Man or machine: Kempten University of Applied Sciences conducts research on fully automated parking
Photo credit: University of Applied Sciences Kempten