Ride Comfort & Steering Behaviour | News
Latest evaluation method: MXeval Release 2.1 now also includes ADAS evaluation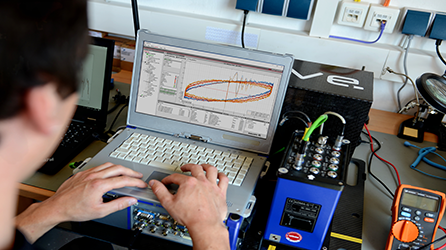 Munich. MdynamiX introduces the new generation of their approved MX evaluation software for a consistent evaluation of driving manoeuvres with Key Performance Indicators. Numerous modifications make MXeval 2.1 not only more user friendly, it also enables a quick and simple validation – in online mode – of subjective impressions and objective performance data for the applications vehicle dynamics, steering, driving assistance systems.
For the latest MXeval release, above all the improvement of the usability was significant. Now the focus has changed. So far, MXeval was optimized for office use. The newly introduced automated online mode facilitates the objective evaluation of bus or measurement data directly inside the vehicle. By means of pre-programmed evaluation scripts a routine is generated, which delivers the desired KPIs even more instantly to the user.
In that way, the user is able to validate their objective impressions in the vehicle with the KPIs and plots and to optimise the adjustment of the steering feel or the automated driving function – all in online mode. Furthermore, different driving manoeuvres can be documented quickly and easily through the integrated report generator.
The following new features for MXeval 2.1 are now available:
MXeval functions library V2.1 with updates in the lane keeping library
Global Channel Configurations
Popup editor for custom channel configuration
Plot interaction tools
Improved error handling with extensive session log
New filters in filter designer
Customizable summary functions
Native support for IPG CarMaker .erg files
Data plausibility check
Due to fast algorithms and a user-friendly GUI evaluations can be executed in the online mode efficiently and timesaving while test-driving. In the future MXeval will be available with an extended vehicle dynamics library and regular updates with ACC.
MXeval supports subjective assessment through objective evaluation of measurement or simulation data and offers countables in comparison with the competitor when benchmarking. The generated data is saved by means of a data logger and is processed in real time with MXeval. Due to interfaces, MXeval can be used in diverse environments such as CarMaker, Matlab as DLL and stand-alone. For database linking, KPIs can be exported as mat. and csv. The implemented libraries, filters and channel configurations ensure the required simplicity of MXeval, but may be extended as needed by embedded Matlab scripts without requiring a Matlab license.