Ride Comfort & Steering Behaviour | News
Versatility of the MXsteerHiL – dynamic and static driving simulator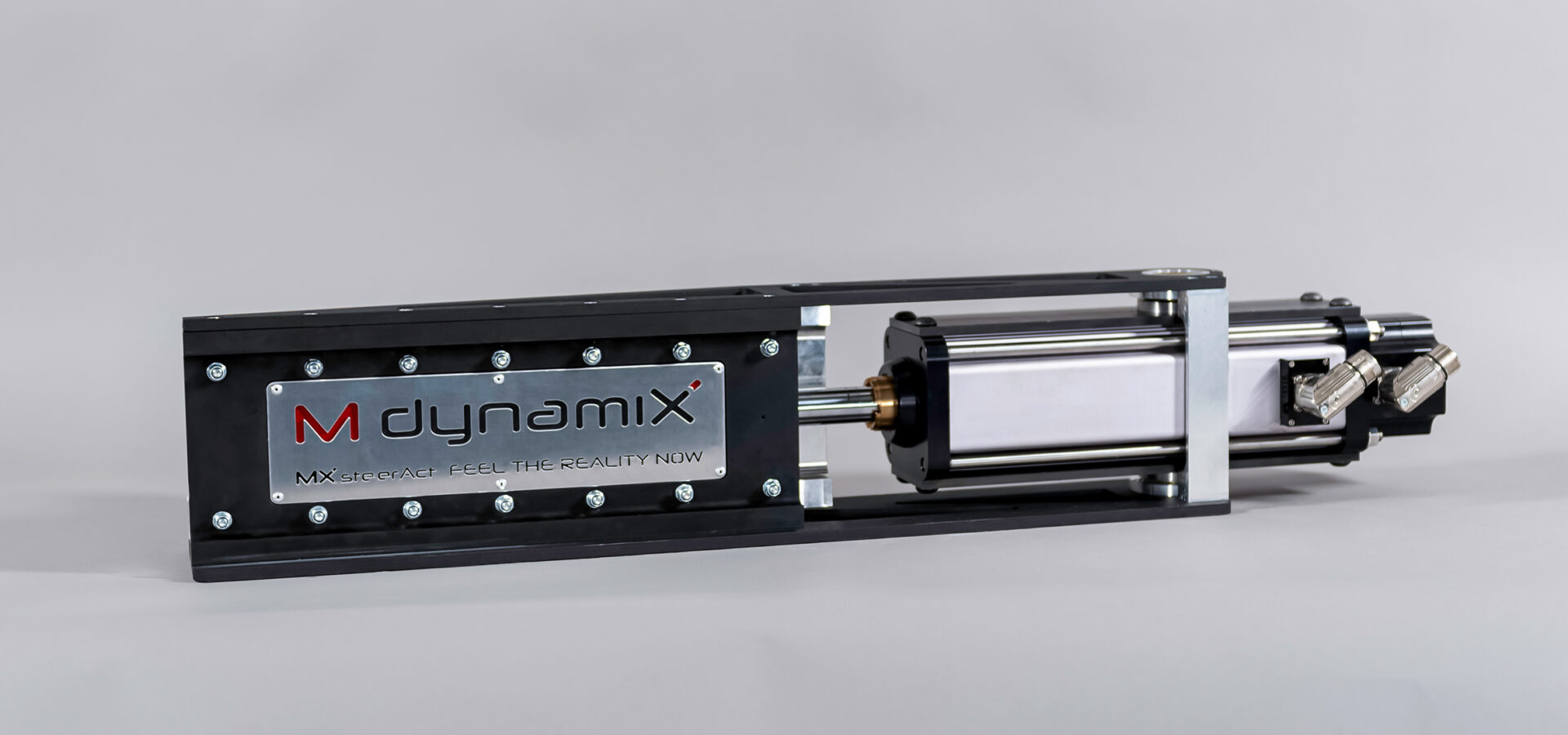 3 Reasons why the MXsteerHiL is perfect for your dynamic and static driving simulator
The steering simulator or steering test bench MXsteerHiL is our steering-in-the-loop solution for a uniquely realistic steering feel. Thus it helps agile development to turn their creative ideas into success faster. As a modular kit, the MXsteerHiL can be used flexibly from the HiL lab to the highly dynamic simulator and enables evaluation and calibration of steering systems and ADAS/AD functions already in the early stages of development.
The MXsteerHiL has many different application areas, which we would like to introduce in our blog series versatility of the MXsteerHiL – today we focus on the use in dynamic and static simulator.
Why fail at trying to represent reality as realistically as possible when you can simply integrate it into the simulator?
We know that driving experience is largely determined by steering. However, many people are not aware that this is also the case with simulators. If the overall performance is unsatisfactory, various adjustments are made – but the steering or the steering feel is seldom recognized as the cause. The use of a low-performance virtual steering model can cause users, whether customers or developers, to perceive the entire simulator as not performing well. In fact, this is a common problem in practice.
The solution: steering is no longer a virtual component, but a real component in the simulator. After all, why fail at trying to represent reality as realistically as possible when you can simply integrate it into the simulator?
MXsteerHiL allows the entire functional spectrum of today's steering systems to be represented. Return torques, inertia compensation, on-center behavior or steering centering are thus considered in the simulation. Likewise, numerical problems can be ruled out, which a simulated steering system might cause, such as steering bounce or instability.
2. As authentic and comfortable as in your own vehicle
The use of a real steering system in the simulator also means the possibility of individual steering wheel adjustment. Driving or steering as authentically and comfortably as in one's own vehicle by adjusting to body size and posture of the respective user.
In this way, all steering wheel positions can be tested and any differences eliminated as early as the development phase. Even the most subtle adjustments can have an impact on steering and driving experience.
3. Hardware creates trust
While testing a simulated setup, it is quite possible that it was mistakenly set up with outdated or incorrect parameters. As a result, the simulations deliver unusable results. In the worst case, this is only noticed at the end of the test series and a lot of time and effort is wasted.
An installed real steering system – hardware – is tangible, visible and eliminates any programming error. You develop and test faster and cheaper!