Automated driving (ADAS) | News
New BMW 540i xDrive for our Partner – University of Applied Sciences Kempten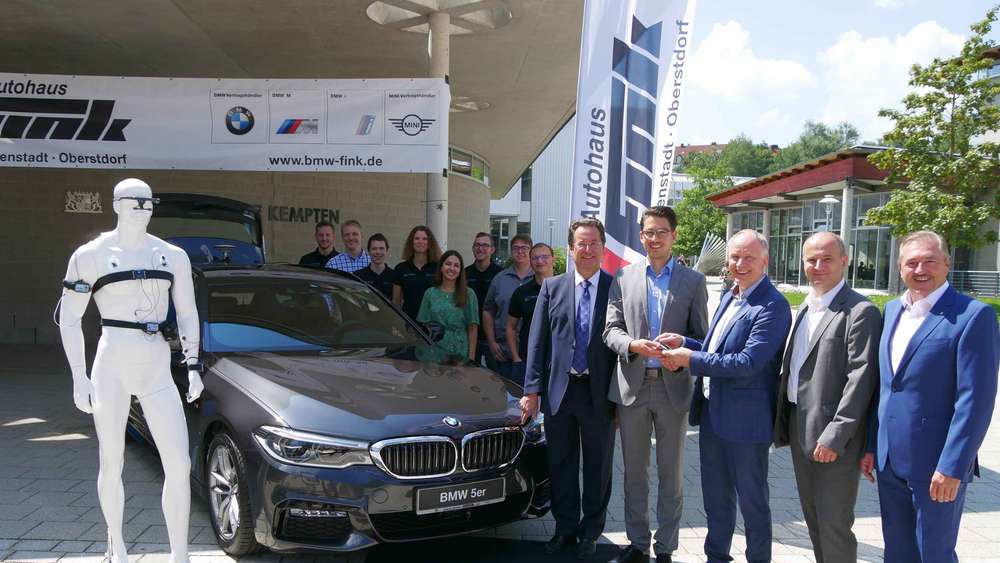 Car dealer Fink supports with research vehicle
Kempten. The new BMW series which was delivered to the University of Kempten last week has around 340 hp. Marco and Reiner Fink from the local car dealer Fink handed over the key for the vehicle equipped with all driver assistance systems together with Stefan Hörnlein from the BMW Group and Prof. Bernhard Schick. This is particularly important for the Adrive Living Lab at the University with it`s Masters program "Driver Assistance Systems", which is unique in Germany.
It is a vehicle with state-of-the-art driver assistance systems, such as active cruise control, emergency brake assistance, pedestrian protection, parking assistance, lane departure warning, lane change assistant, light assistant, night vision camera, environmental cameras and head-up display. The car, worth approximately 94.000 Euro, was specially equipped by BMW for the University of Kempten and will in future be used for research activities in the Adrive Living Lab. "We are very happy about the research vehicle and the cooperation with BMW. Within the framework of driving studies, we will gain important insights into how people use driver assistance systems", says Prof. Bernhard Schick. The driving studies are conducted in the areas of development of test and evaluation methods, customer studies – the human being in dealing with new technology, driving and comfort experience of the future as well as transfer of driving tests into simulation.
The cooperation with the car dealer was established on the basis of a request from the Living Lab of the University for a fully equipped rental car. For Marco Fink did not see any possibility in a loan but he made effort to providing a vehicle via the BMW Group in Munich. "This cooperation is intended to support the forward-looking research area, the Masters program and the University in general and thus also the city of Kempten", said Fink.
Contact