Automated driving (ADAS) | News
MdynamiX presents new MXcarkit equipment at the VDI congress "ELIV" 2021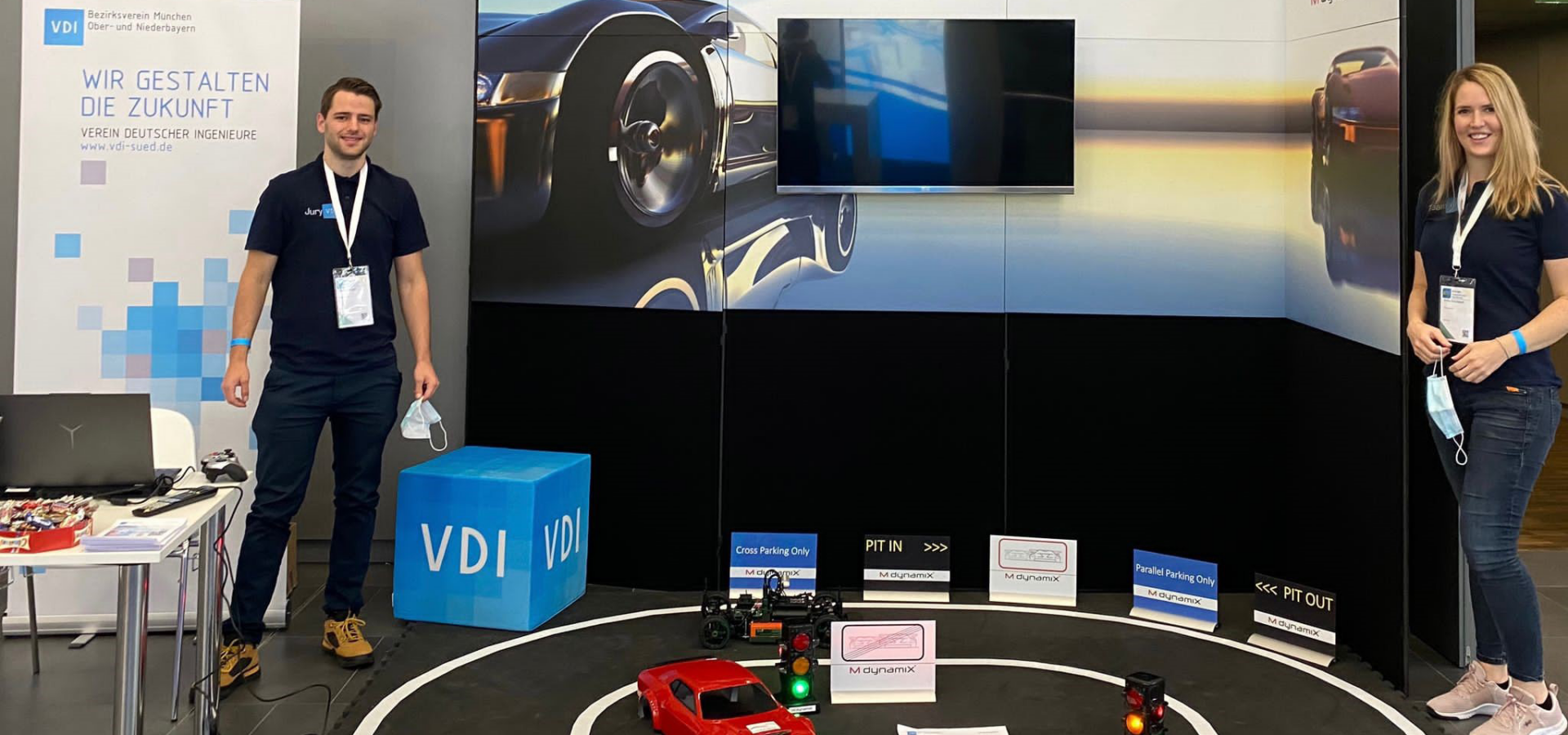 Bonn. On October 20 and 21, the MXcarkits and its specially developed brand-new equipment will be presented to a large live audience for the first time. The international VDI congress "ELIV" opens its doors again this year and offers the platform to see the small fully autonomous vehicles with the matching and VDI ADC compliant accessories live.
The MXcarkits are model vehicles that do much more than just remotely control driving and parking situations. By incorporating sensor technology and a real-time computer, they have real computing power on board and can thus master automated driving situations.
The MXcarkit is quickly assembled and ready for use. For more infos about the MXcarkit with the powerful NVIDIA board, the Robot Operating System (ROS) and the integrated WLAN connection read more here.
MdynamiX team Anita Schuhwerk and William Engel will not only present the carkits, rather will they demonstrate specially developed equipment. In addition to presenting roadway elements that can be assembled flexibly and as desired, and specially designed signage for the corresponding test routes, the focus is on the MXcarkit Traffic Light System. The traffic light can be easily controlled via app on the smartphone using a Bluetooth connection.
MXcarkit Traffic Light System (VDI ADC compliant)
Prof. Dr. Markus Krug and PhD student William Engel designed the Traffic Light System especially for use with the MXcarkits. After 10 months of development they proudly present the new MXcarkit equipment at the "ELIV". The remotely controllable traffic light will become basic equipment on the course at the VDI Autonomous Driving Challenge. Using the app, the traffic lights can be controlled in two different modes. In manual mode, the lights can be turned on and off individually. In automatic mode, user-defined signal schedules can be set for the red, yellow and green phases just as in real road traffic. In addition, several traffic lights can be linked together and the signals can be coordinated along one route, e.g. synchronized traffic lights.
MXcarkit Traffic Sign Set (VDI ADC compliant)
The 6-piece set consists of the traffic signs Pit In, Pit Out, Cross Parking Only, Parallel Parking Only, Takeover Forbidden, Takeover Allowed. With this Traffic Sign Set, which is based on the racing design, you can create your own route.
Road surface base element set with 25 parts (without road marking, 1x1m, hardness grade 70 Shore, VDI ADC compliant). The MXcarkit gets into full swing on the right base. The shape and size of the track can be selected as desired using the 25-part basic element set. By purchasing additional parts, the track can be enlarged as required. Size and hardness are VDI ACD compliant. The basic elements are supplied without track markings.
With the MXcarkits (specifications) and the associated equipment, they are ready for the VDI Autonomous Driving Challenge. On May 13, 2022, the accessories will be officially used for the first time in the competition.