Automated driving (ADAS) | News
Kempten University wins the first VDI Autonomous Driving Challenge Cup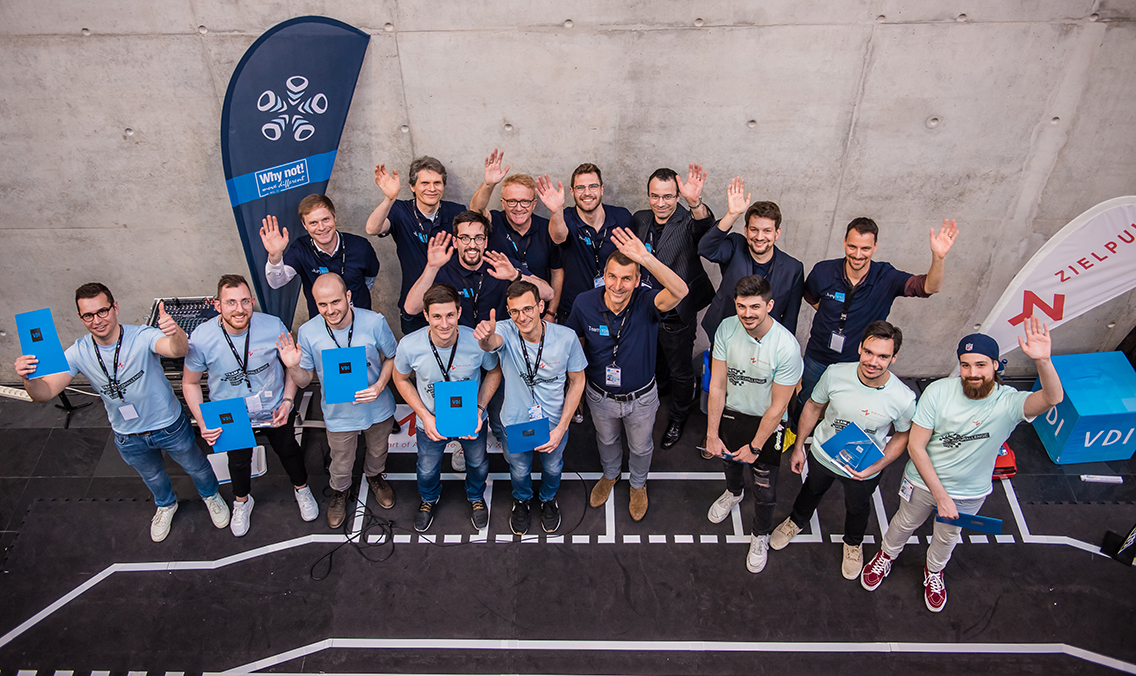 The new VDI student competition for autonomous driving takes place in Munich
The circuit meanders artfully through the sun-drenched foyer of the Munich University of Applied Sciences. The race track at the venue of the newly created VDI student competition "VDI Autonomous Driving Challenge", which was held for the first time on 13 March 2020 at the Munich University of Applied Sciences, is very close to reality with its hairpin bends, chicanes and acceleration straights – not even the many car tyres at the edge of the race track to protect the spectators are missing.
Motto: Get connected
"The VDI ADC is a great platform for students, attractive for spectators and it has great relevance for road traffic by linking autonomous driving and the race track," said Felix Seufert – automotive engineering student and, together with his fellow student Gioele Micheli, one of the main organisers of the event – in his welcoming address.
The task of the competition is challenging, because within a few months the teams are to modify a radio-controlled (RC) model car in such a way that a previously unknown circuit can be driven through autonomously for a limited time, various parking tasks can be solved and all disciplines can be started and stopped by "Connected Drive" (WLAN signals).
Although the number of participants was reduced due to travel bans caused by the COVID-19 infection risk, Seufert can present the teams "Adrive Living Lab" of the University of Applied Sciences Kempten and "SAM" of the University of Applied Sciences Munich on this day.
The bar is set high
First of all, the teams have to face the top-class jury with the presentation of the vehicle concept (technical implementation, choice and installation of the components, justification for the choice of the software-side codes and algorithms).
Under the direction of Prof. Dr. Markus Krug (Munich University of Applied Sciences), Dr. Eric Wahl (Porsche), Dr. Daniel Kürschner (AVL S&F), Dominik Reif (Schäffler), Prof. Dr. habil. Alfred Schöttl (HS Munich) and Markus Frey, Managing Director of the main sponsor, Zielpuls GmbH from Munich, evaluate the concepts presented.
Consideration in traffic: running
In the afternoon, the dynamic tasks begin with autonomous parking in and out. Remarkable here is the fast and error-free reaction of the vehicles as soon as other road users appear.
The acceleration race, in which reaction time and maximum performance on the 10-metre long straight test track are crucial, is won by the team from Kempten with a fantastic time of 1.5 seconds.
The crowd highlight is then the race against the clock, where the fastest line selection and best traction are the deciding factors. Also on the race track the team "Adrive Living Lab" from Kempten can convince, after SAM unfortunately failed with a technical defect. To great applause, Bonifaz Stuhr, Felix Treuer, Holger Link, Johann Haselberger and Dominik Schneider win the VDI ADC winner's trophy and a one-year VDI membership. Text: Silvia Stettmayer