Ride Comfort & Steering Behaviour | News
Explore-to-Innovate 2023: MdynamiX is gold partner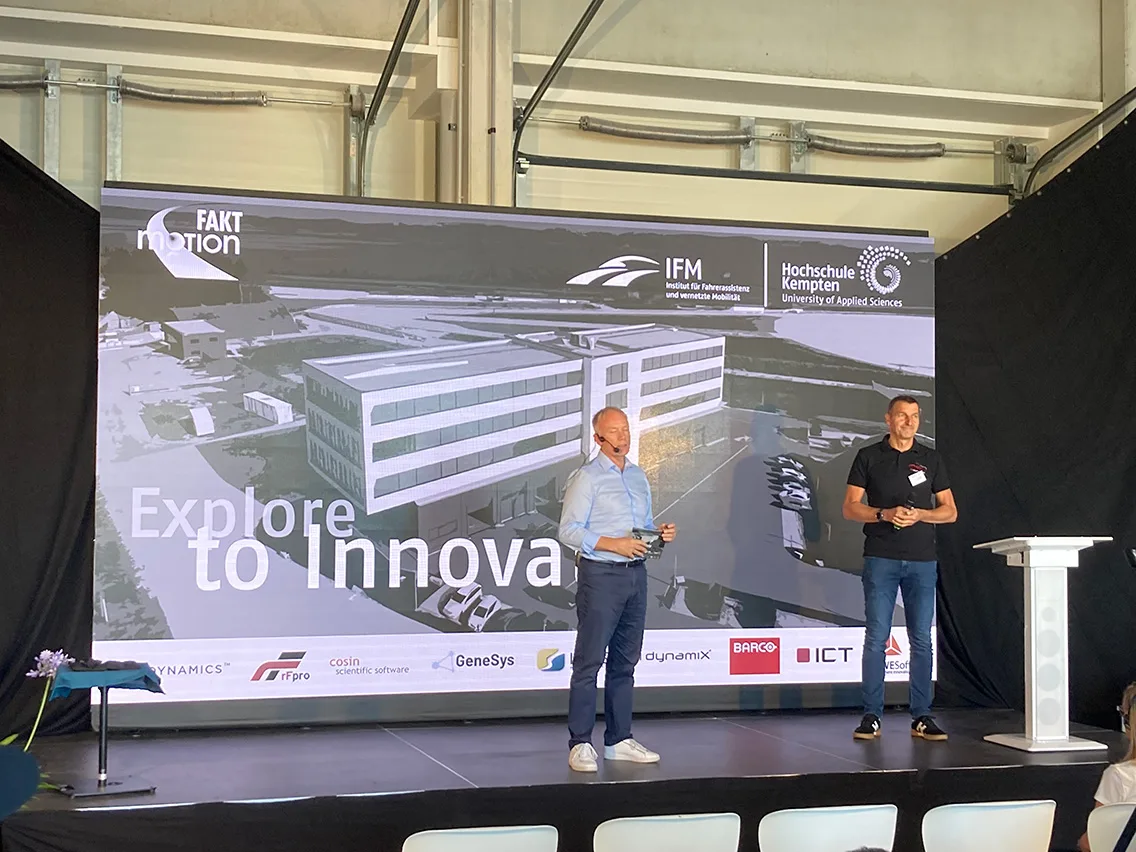 Benningen. We will be part of Explore-to-Innovate 2023 with live demos on the test track and in the lab. We are presenting our product range, which has been extended over the past year, at Explore-to-Innovate on June 22+23. Last year, the annual two-day forum was held at the Institute for Driver Assistance and Connected Mobility in Benningen, Germany, with around 350 guests from business, politics and research, and was very well received!
Let the pictures speak and watch some impressions of last year's event:
The Explore-to-Innovate motto will once again be "Research and technology up-close and live".  The event combines research presentations, technology exhibitions and live demonstrations in the lab, on the simulator and on the test track.
There will be exciting live demos by MdynamiX on the FAKT Motion test track and at our booth in the exhibitor area.
Our goal here is to show a real steering feel with our MXsteerHiL steering test bench and steering simulator in combination with our weight-optimized vehicle cabin for an authentic driving experience in the static as well as the dynamic driving simulator.
From the same product group – and also represented at the MX booth – derives the MXbrakeHiL, which demonstrates a real braking experience at an early stage of development. With the help of the brake-in-the-loop test bench, brakes are tested and characterized for vehicle dynamics and ADAS/AD development.
The new and freshly developed Force Feedback System can be found in the foyer. With our Force Feedback Setup we achieve an outstanding steering feel for testing steering functions of all kinds as well as for integration into a driving simulator for an absolutely realistic feedback.
On the test site we demonstrate with three different live demos. Starting with our new tool MXoptiCal, we prove its strength in determining measurement technology, components and "points of interest" on and in the VUT in a process-safe, repeatable and more precise way than would ever be possible by hand. This highly accurate offset determination is the basis for our automated evaluation method of partially and fully automated parking maneuvers, which together with.
Our ground truth toolbox is able to dynamically determine contour distances and is implemented using MXeval. The application of this with virtual measurement participants demonstrates the flexible adaptability to a wide variety of evaluation requirements and tasks and thus closes the circle to the topic of "Mixed Reality Testing".
In addition to the simultaneously executed MXeval evaluations, the associated MXevalApp will also be demonstrated, which simplifies the execution and evaluation of subjective evaluations.
Our live demos cover the essential topics of automation and digitization of mobility, virtualization, as well as smart testing methods that are the focus of Explore-to-Innovate. Come and see for yourself. We are looking forward to your visit!