Automated driving (ADAS) | News
Autonomous driving in the Bavarian Parliament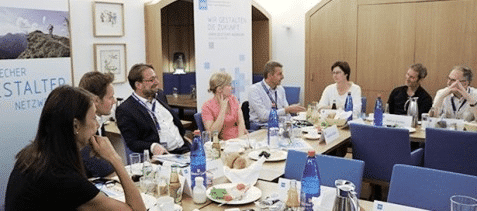 Delegates show great interest in the subject of mobility
Shortly before the summer break of the Bavarian State Parliament, more than 20 members of the Alliance 90/GREENS parliamentary group attended the VDI State Association's Parliamentary Breakfast.
Katharina Schulze, co-chairwoman, emphasized the great interest of the members of the parliament in the subject of mobility and was pleased about the chance to experience the expert knowledge of the engineers in this conversation.
Prof. Dr. Peter Pfeffer, chairman of the VDI Süd district association, spoke about an important component of future mobility concepts in his keynote "Automated and autonomous driving".
During the brief presentation of the five degrees of automation in automated driving, Professor Pfeffer pointed out: "Many automobile manufacturers are also talking about the fact that we are currently on the brink of introducing "Level 3", in which vehicles will really be able to drive autonomously on special sections of road such as motorways. This really is a huge step, not only because the liability of the systems is transferred to the vehicle companies. I see great technical challenges in the so-called handover time, in which the driver has to take over from the automatic system, in the inadequate coverage of the mobile phone networks and the very complex approval procedures."
A rapid introduction of Level 3 systems is not to be expected, which is not leaast a psychological problem. The great distrust of automated systems is also reflected in the low installation rates of automated driving and parking functions such as adaptive distance assistants.
Dr. Markus Büchler, spokesman for mobility, and Ludwig Hartmann, co-chairman of the parliamentary group, opened the lively discussion on automated systems with the thesis that they will establish themselves much more quickly in rail-bound traffic than on the road.
Hartmann said: "The time span until the introduction of automated driving is very long. We politicians also have to offer people prompt solutions. We are constantly discussing local public transport and the lack of train drivers. Railway systems from Germany were leading after all, so I am really pleased about your magazine "Bahntechnik".
The overall concept is to be the deciding factor
Markus Büchler came back to the digitalization of the rail. He stated the opinion that with a financial requirement of at least 1.5 billion euros over a period of ten years, the autonomous vehicle concepts of the automotive industry would be realised much earlier than the upgrading of rail transport. "We Greens are also concerned about the many jobs in the vehicle industry and we also want the car of the future to come from Bavaria".
Text: VDI/Prof. Dr. Peter Pfeffer
Contact